Greetings from Physio Pros Oakville! I'm Paul Wnuk, a registered physiotherapist, and I'm excited to delve into a topic of utmost importance today – the incredible potential of physiotherapy as a safe and natural alternative for managing chronic back pain. 
In this article, we will explore the profound benefits of physiotherapy, particularly in the context of back pain, and how it can help you break free from the grip of prescription medication addiction while alleviating your back pain.
Individuals seeking relief from back pain in Oakville can easily find valuable information about the benefits of physiotherapy and its role in managing chronic back pain.
The main portion of a vertebra is a circular segment of bone called a vertebral body. This structure supports about 80% of the body's weight load while an individual is standing.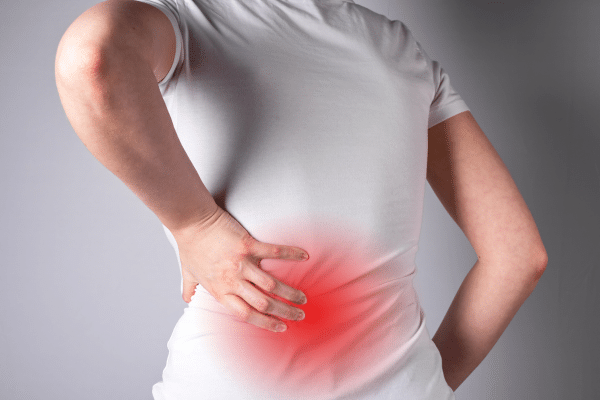 Acute tissue damage, such as a torn muscle, an irritated disc, a pulled ligament, or a spinal fracture will cause acute or Short term back pain
The Opioid Epidemic's Shadow
Prescription medication addiction, especially involving opioids, has cast a long and dark shadow over the healthcare landscape, not just in North America but globally. It's a crisis that demands our attention and concerted efforts to address.
One crucial aspect of this crisis is the role of prescription medications in managing chronic pain, such as back pain.
In today's world, many folks have trouble with drugs. You see them everywhere – at the store, in pharmacies, and doctors often prescribe strong pain pills, like opioids. It's clear that we depend on medication quite a bit, and that's a real concern.
Opioids are a class of drugs used to reduce pain
Book your appointment now at Physiopros Oakville
The Silent Suffering of Back Pain
Back pain is a silent but common affliction that affects countless individuals in Oakville, Ontario, and across the world. Unfortunately, the pursuit of relief often leads many down a perilous path of dependency on prescription medications. It's high time we shed light on a safer and more sustainable alternative – physiotherapy.
Struggling with Back Pain During Your Runs?
Are you a dedicated runner whose passion has been hampered by persistent back pain? We understand how frustrating that can be. At Physio Pros Oakville, we're here to help you identify the root cause of your discomfort and get you back to pain-free running!
Back pain is a common issue, and it can affect anyone. Some people are fortunate, experiencing only short-term pain, while others endure it for years without complete relief. Shockingly, studies have indicated that running might actually help prevent back pain. However, it's crucial to recognize that the most common causes of lower back pain in runners are often avoidable training mistakes.
At Physio Pros Oakville, we specialize in treating lower back pain, and we have effective solutions tailored to your needs. Reach out to us today to schedule a consultation with one of our highly trained therapists in Oakville, Ontario. Let us be your partners in helping you run pain-free once more!"
Book your appointment now at Physiopros Oakville
What Causes Back Pain in Runners? Understanding the Factors
Dealing with back pain, especially when you're an avid runner, can be quite challenging. At Physio Pros Oakville, we're dedicated to helping you understand the factors behind back pain and providing personalized solutions to keep you running smoothly.
Back pain can often feel like a puzzle with missing pieces. The frustrating part is that there aren't always consistent risk factors, especially for those who experience their first bout of low back pain. It's often said that the primary cause of back pain remains a mystery. Surprisingly, the most reliable predictor of future lower back pain is a previous episode – once you've had it, you're more likely to experience it again.
Running is an incredibly popular activity that offers numerous physical and mental health benefits. However, it's not without its risks, and back pain can sometimes rear its head during or after a run.
Back pain in runners is often associated with factors like gait issues or problems with muscle fatigue and activation. Here are some of the key risk factors we've observed at Physio Pros Oakville:
Years of Running: Those who have been running for more than six years may be at a higher risk of experiencing back pain.
Weight Concerns: Individuals with a Body Mass Index (BMI) above 24 (indicating overweight) might be more susceptible to back pain.
Training Habits: Going from being relatively inactive to suddenly adding significant mileage can strain your back.
Hip Flexibility: Limited hip flexion range of motion can contribute to running-related back pain.
Spinal Mobility: Restrictions in spine mobility can also play a role.
While there are other factors that can indirectly affect your lower back, such as lower limb injuries leading to compensatory movements or gait changes, some claims about shoe styles, inserts (orthotics), or stretching may not have solid research-backed evidence.
At Physio Pros Oakville, we're here to help you unravel the mystery of your back pain and design a personalized plan to address its root causes. Our team is committed to keeping you running comfortably and enjoying the many benefits of this fantastic activity.
Book your appointment now at Physiopros Oakville
The Healing Power of Physiotherapy
Personalized Care: Our journey to recovery starts with a personalized assessment, taking into account your unique medical history, lifestyle, and specific pain-related challenges. This forms the foundation of a tailored treatment plan designed just for you.
Targeted Rehabilitation: At Physio Pros Oakville, we leverage state-of-the-art technology and evidence-based techniques to address the root causes of your pain. Our goal is not just symptom relief but long-term healing and pain management.
Non-Invasive Modalities: Unlike prescription medications with their potential for addiction and side effects, physiotherapy is a non-invasive approach. Our treatments encompass manual therapy, exercise therapy, and advanced modalities like ultrasound and electrotherapy, all contributing to improved mobility and reduced pain.
A Holistic Approach: Our integrated approach combines physiotherapy with complementary therapies like massage therapy and acupuncture, ensuring that we address not only the physical aspects of pain but also the emotional and mental components. We believe in nurturing overall well-being.
Education and Empowerment: Knowledge is power. We are committed to educating our patients about their conditions and providing them with self-management strategies. This empowers you to play an active role in your journey to recovery.
In the face of the prescription medication addiction crisis, it is imperative that we explore safe and effective alternatives for managing chronic pain. Physiotherapy, as practiced at Physio Pros Oakville, stands as a beacon of hope. Our dedicated team, led by registered physiotherapist Paul Wnuk, is here to guide you toward lasting relief without the risks tied to prescription medications.
If you or a loved one is seeking a safe path to healing and recovery from chronic pain, I invite you to reach out to us at Physio Pros Oakville. Together, we can embark on a journey toward a brighter, drug-free future filled with vitality and well-being. Your health and happiness are our top priorities, and we are ready to support you every step of the way.